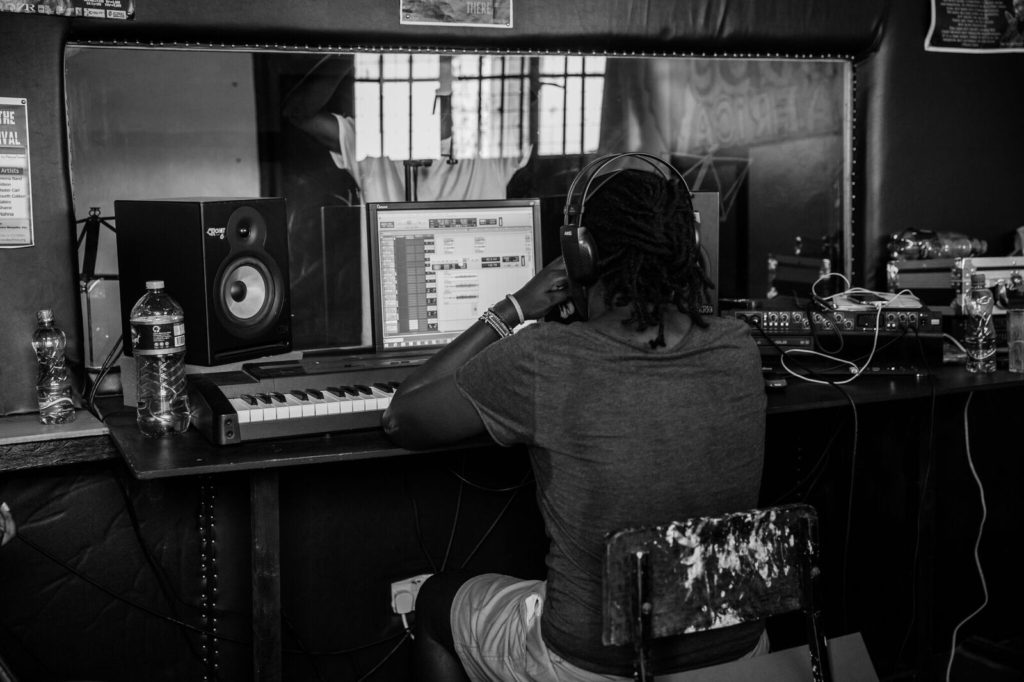 In June 2013 when One Vibe Africa started its Education, Music & Art Program (EMAP) it became evident that a recording studio was critical for quality programming. Out of 68 students registered in June 2013 only 24 graduated in August 2014, and the lack of access to a recording studio was determined as a direct cause for the low graduation rate. One Vibe conducted a survey that indicated urgent need for a professional recording studio to not only serve One Vibe's students' but also serve the fast growing market in western region of Kenya. Through funds raised at Madaraka Festival in Seattle, WA in 2014 One Vibe Studio was established.
In 2015, 84 out of 100 students that registered for EMAP graduated. The higher graduation rate was attributed to the existence of the recording studio, which has not only served youth in our programs but recorded renowned Kenyan artists like Nazizi, Sauti Sol as well as internationally recognized artists like Owuor Arunga, Yirim Seck, Blitz the Ambassador among others. One Vibe Studio is now the only space in Kenya that is also dedicated to recording and preserving traditional stories from the local communities to help preserve the culture.
Rehearsal Space
Kisumu is home to some of the best talent in Kenya, such as Suzzana Owiyo and Lupita Nyongo. What is sad is that there is no existing space in Kisumu that is fully equipped, staffed, and consistently open 24 hours for the current generation of talent in Kisumu to practice. The historical trend for talented individuals in Kisumu has been to move out of Kisumu in order to develop creative skills. Suzzana Owiyo and Lupita Nyongo got their break in the arts in Nairobi. The tendency of talent moving away from Kisumu kills the art further, because it leaves no immediate role model for younger artists to reach for inspiration and mentorship.
One Vibe's Rehearsal Space is now open to all artists in Kisumu, and any visiting talent from other parts of the world. This space is equipped, staffed, and open 24 hours everyday of the week to help nurture talent while earning One Vibe valuable income to help sustain the organization.
Our Impact
Created full time jobs for the team running the studio
Recorded over 200 songs and stories
Created a vibrant space utilized by over 1,500 youth since 2015
How can you help?
Record your songs at our studio
Record your story at our studio
Sponsor an artist to produce a song at our studio